Exploring the Different Types of Real Estate Websites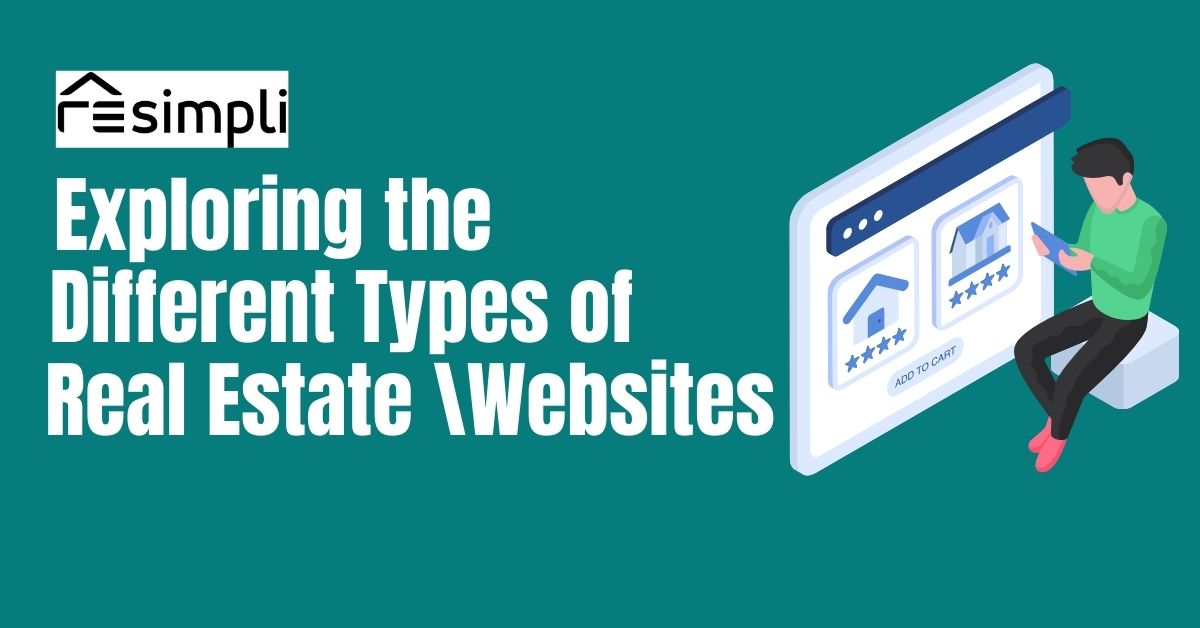 Exploring the Different Types of Real Estate Websites
We're living in a world that runs online. Thusly, the real estate industry is becoming more and more based on the internet, and with that has dawned an age of various different types of real estate websites. Real estate websites can be used to promote a business, list properties, and much more.
The unique features of all the different website forms have shaped how professionals and interested parties engage with the property market, and that seems to be here to stay. We've put together this blog to delve deeper into seven different types of real estate websites, along with guiding you towards some good website builders, so you can feel more equipped whether browsing or building your own digital presence.
Different Types of Real Estate Websites and Their Benefits
Promotional Real Estate Websites for Businesses
Promotional real estate websites act as digital storefronts for real estate agents, brokers, and investors, showcasing the offerings, expertise, and achievements of the business as a whole. The best real estate websites for agents will utilize the practices of quality website design, creating a user-friendly, easy-to-digest landing page where potential clients can learn more about the business and what it can offer them.
With a strong promotional website, a business can enhance its brand visibility, build credibility, and ultimately convert more leads into active clients. Promotional pages can take the form of real estate agent websites and bases for national brokerages alike.
Property Listing Websites
Property listing websites are an essential platform in the real estate industry, acting as online catalogs where real estate agents and investors can list properties for sale or rent. The best listing sites will share in-depth details about properties, including everything from images and descriptions to prices and relevant contact information.
These websites are a primary resource for agents and prospective buyers alike, providing a solid platform from which property transactions can take place. Websites like Zillow and Trulia exemplify the top real estate websites for property listings, offering a myriad of listings and advanced search options to meet every buyer's needs.
Real Estate Marketplaces
Real estate marketplaces take the principles of property listing sites to the next level, offering a platform for buyers, sellers, and agents to interact before they make the next move in the process. They act as a great base for easing the stress and strain of property transactions.
Furthermore, these types of real estate websites often feature comprehensive market trend reports, neighborhood data, and online valuation tools, integrating multiple aspects of the real estate transaction process into a single platform. Websites like Realtor.com and Redfin are two of the best real estate websites in this category, offering users a holistic real estate experience.
Real Estate Investing Websites
Tailored specifically for real estate investors, these websites equip users with the necessary tools and resources to make informed investment decisions. From market analytics and property value estimates to investment calculators and community forums, these platforms offer everything an investor needs.
Websites like BiggerPockets are prime examples of real estate investor websites. They offer data-driven insights and facilitate shared learning experiences within their investor communities. Note: These differ from promotional websites used by investors to advertise their services.
Property Management Websites
Property management websites focus on providing tools and resources to facilitate the efficient management of real estate properties. These websites, often used by real estate agents, landlords, and property managers, provide a space for rent collection, maintenance requests, tenant screening, and financial reporting to take place. They also provide a simple space for clients or tenants to interact with those that manage their properties.
They allow property managers to streamline their operations and enhance tenant communication effectively, using automated systems and tools to save time. AppFolio and Buildium are among the top websites for real estate agents and property managers, delivering comprehensive solutions for property management – not unlike certain CRM tools.
Commercial Real Estate Websites
Commercial real estate websites cater specifically to sharing listings of commercial properties, such as office buildings, retail spaces, warehouses, and much more. These websites are designed to serve professionals who are attempting to set up business spaces, getting their industrial plans off the ground. These sites can also be used by agents, investors, and brokers with an interest in participating in deals outside of the residential industry.
Websites like LoopNet stand out in this category, offering a massive array of commercial listings along with the critical information about each property that buyers or investors need before taking the next steps. These websites often provide valuable tools such as calculators and market trends, so users can be fully informed about the nature of the investment they might make.
Website Templates for Real Estate
For professionals looking to build a website in any of the above categories, real estate website templates can be an essential tool. Many people have ambitions of entering the real estate industry but know nothing about coding or website design – templates make websites accessible to everyone.
Using website builders is a quick and cost-effective way to set up a professional-looking website without needing masses of tech know-how. Platforms like Wix and Squarespace offer a variety of customizable real estate website templates, while various CRM tools and software solutions also offer website templates as part of their package.
Conclusion
In conclusion, the digital revolution within the real estate industry has resulted in a diverse array of websites, each catering to different aspects and individuals within the industry. The best real estate websites are those that meet the specific needs of their users, whether they are buyers, sellers, agents, investors, or property managers.
As technology continues to advance, it's clear that all the different types of real estate websites will continue to evolve, offering more and more specialized services and features, potentially powered by AI and comparable technologies. Ultimately, the key to successfully navigating the digital real estate landscape lies in understanding the functionality and benefits of these various types of websites, then selecting the ones that best fit your needs as a buyer or professional.
For more information on the digital evolution of the real estate industry, visit our blog today.