How to Create a Real Estate Marketing Plan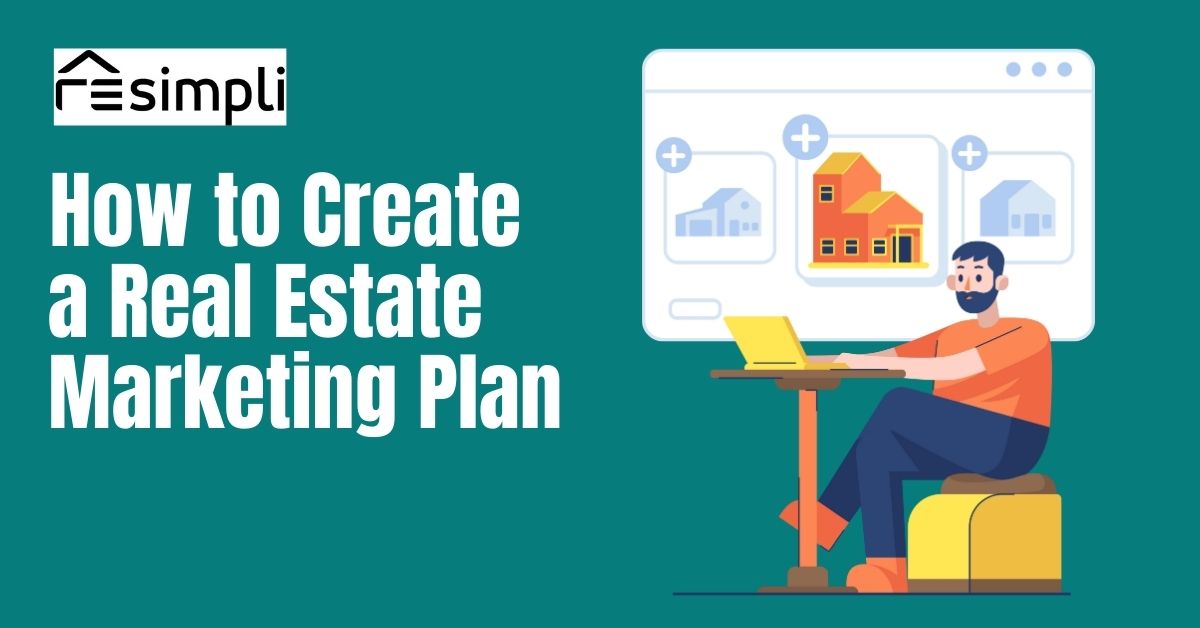 How to Create a Real Estate Marketing Plan
Marketing is a huge part of being successful in the real estate industry, but staying ahead of the pack is no easy task. A key tool in every investor, agent, or broker's arsenal should be a comprehensive real estate marketing plan. An effective marketing plan not only provides you with a strategic map for your business but also empowers you to outperform your competitors and secure top search engine rankings.
Before we dive into the intricacies of real estate marketing plans, it's important to understand just how vital they are. A well-structured marketing plan for real estate agents provides a framework in which business goals can be defined, steps can be strategized, and ultimately success can be achieved.
So, how can you create a marketing plan for real estate that helps you stand out? What elements should be included in your plan? How can digital marketing and social media marketing elevate your game? We wrote this article to answer these questions and more, providing you with a comprehensive, essential guide so you can craft the perfect marketing plan for your business.

What are Real Estate Mailers?
Real estate mailers, a classic tool in real estate marketing, are direct mail pieces sent to a targeted group of recipients. They are often designed and distributed to promote properties, services, or to establish and maintain a realtor's presence in a local market area.
Direct mail in real estate can take various forms, with each form having a distinct and specific use. The main forms of direct mail include:
Postcards:

These are the perfect format for making quick, visually engaging announcements. They can be used to advertise new listings, open houses, or market updates.

Letters:

Personalized letters help agents to build deeper connections with potential clients, whether they've spoken before or not. They can be used as a way to introduce your services, follow up after a meeting, or provide more detailed property information.

Brochures:

High-quality brochures can present properties in a sophisticated and detailed way, while also showcasing the kinds of properties that you work with in your business. They are ideal for showcasing luxury listings with lush visual potential.

Flyers:

Flyers are versatile in both purpose and distribution. They can be used to advertise open houses, listings, or real estate events, often handed out in high-traffic areas or mailed directly to potential clients.
The effectiveness of real estate mailers lies in the fact that they're targeted more specifically. Mailers are sent to selected individuals or households based on various criteria captured from research, like geographical location or demographic factors, so the right message ends up on the right doorstep.
In an increasingly digital age, mailers offer a personal touch that online methods often lack. By incorporating mailers into your real estate agent marketing plan, you can create a more balanced strategy that engages a wider audience across multiple touchpoints.
It's also worth remembering that not everyone is as tech-literate as the generation of today, meaning you could reach an entirely different sect of society with mailers.


Real Estate Marketing Plan In 12 Steps
To create your real estate marketing plan, you need to break things into a series of strategic steps. We've broken down a comprehensive marketing plan for real estate agents and investors in 12 simple steps.
Define Your Business Goals:

Start by figuring out exactly what your overarching business goals are. Whether you're focused on selling a certain number of properties, expanding your market reach, or increasing your brand visibility, these goals will serve as the solid bedrock for your real estate marketing plan.

Identify Your Target Audience:

Once you've set your goals, it's time to understand who you're selling to and their place in the context of the market. Use

market research

to identify your the demographics, preferences, and needs of your target market – then you can tailor your marketing strategies accurately.

Analyze Your Competition:

Take a close look at your competitors – what are they doing well and what could they be doing better? Observe, assess, and absorb from the strategies of other agents and investors in your market to learn what works and what doesn't. Remember, it's less about your taste and more about the results. Numbers don't lie.

Unique Selling Proposition (USP):

What is it that you can offer to clients that no one else can? Your USP is what will set you apart from the competition, so identify it and figure out the most effective way to communicate it in your marketing materials. Remember, the real estate industry is all about the value you can offer.

Design Your Brand:

Branding is the first thing that leads see when they come into contact with your business, so ensure that it's strong and consistent across the board. With the proper branding, it's much easier to gain recognition and build trust. Ensure your logo,

website

, and marketing materials reflect your brand and resonate with your audience.

Create a Budget:

Determine how much you're willing to spend on your marketing endeavors. This will help guide your choices on marketing channels and tactics. In general, most agents tend to spend around 10-20% of their budget on marketing and lead generation.

Embrace Real Estate Digital Marketing:

Digital marketing is a large part of the battle in today's world. Ensure that all of your online platforms are optimized for SEO and mobile use to drive organic traffic, implement a content strategy, and engage in pay-per-click/pay-per-use advertising to boost visibility.

Leverage Real Estate Social Media Marketing:

Utilize social media platforms like Facebook, LinkedIn, and Instagram to reach a wider audience, promote properties, and engage with potential clients. These channels are a free, open space for you to express more creativity, so why not try and go viral!

Implement Real Estate Email Marketing:

Send personalized content relevant to your target audience through email. This could be

newsletters

, market updates, pieces of value-adding content that you've created, or information new listings.





Note: Using a good CRM or lead generation system is a great way to save time on email marketing with an automated schedule.

Establish Partnerships:

It's a good practice to collaborate with local businesses, online influencers, or other local real estate agents to reach a wider audience and establish credibility – word of mouth goes a long way.

Measure Your Results:

Use analytics tools such as CRM software to monitor the KPIs of your marketing efforts. This allows you to make data-driven decisions and adjustments as needed.

Refine and Repeat:

Marketing is a continuous process. Constantly evaluate and refine your strategies based on your results to ensure you see the results that you want.
Remember, crafting the best real estate marketing plan isn't a one and done process. The more you refine and adapt your plan based on your results, the easier you'll find it to achieve your goals.


Conclusion
In the real estate industry, creating a robust, ever-evolving marketing plan is vital to standing out and achieving success. A comprehensive marketing plan is more than just pushing your messaging out at random – it needs to be a carefully considered approach to making sure that the right materials reach the right people.
With the knowledge that we've imparted about the real estate mailers and the 12 key steps of a marketing plan, it's time to put that information into practice. Every real estate business is unique, so make sure to tailor your approach to your personal style, along with the market that you're operating in. From creating your brand to fine-tuning your emails, your marketing plan should reflect you and your approach to the industry, while still keeping every potential client in mind.
For more tips and strategies on real estate marketing, visit our blog.