The Best Lead Generation for Realtors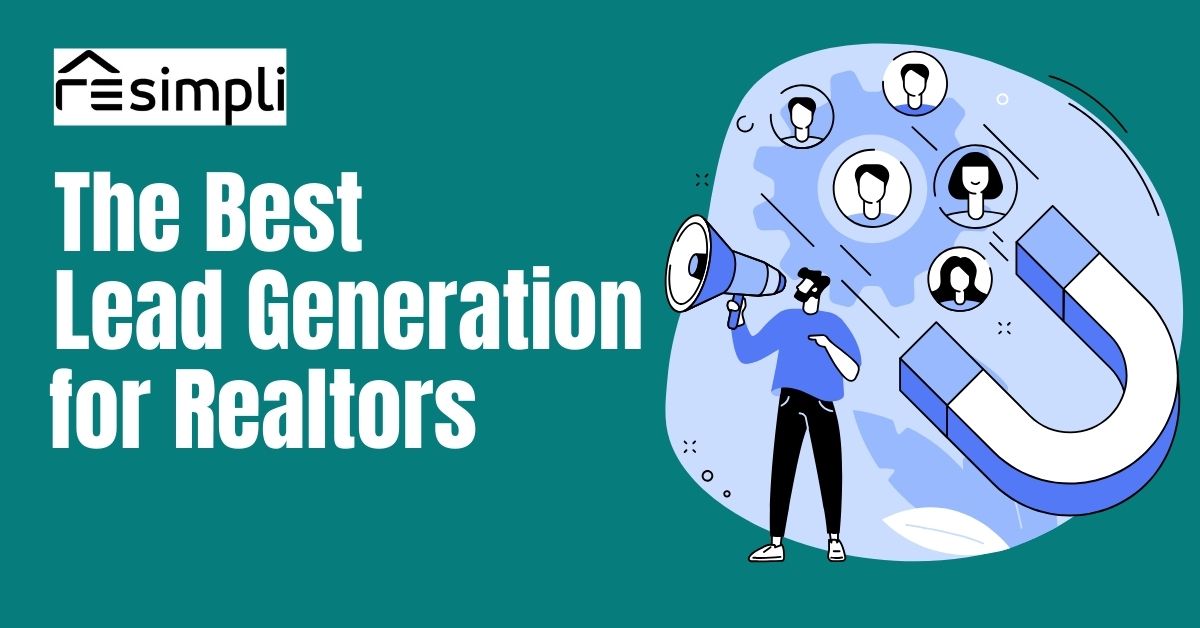 The Best Lead Generation for Realtors
In the fast-paced world of real estate, the success of your business hinges largely on one key element: lead generation. The ability to attract, engage, and convert prospective clients is the lifeblood of any realtor's venture. However, there are a plethora of tools and strategies available today, which can make determining the best lead generation for realtors challenging.
By leveraging the right mix of traditional and digital strategies, real estate lead generation techniques can skyrocket your opportunity to make contact with potential clients, resulting in a higher conversion rate.
This guide will illuminate the pathway to success, putting the spotlight on the best realtor lead generation methods, some of our favorite lead generation companies, and how much of your budget will be spent on generating effective leads.
What is Lead Generation for Realtors?
At its core, lead generation is the practice of attracting strangers and prospects to your business, then converting them into people who have an active interest in your services. These individuals, or "leads," aren't clients yet, but they could potentially be in the near future, which is why lead generation is so crucial to sustaining and growing your portfolio.
But what does this mean for realtors specifically?
Lead generation for realtors is based on strategic processes designed to capture interest among potential clients in specific properties, real estate services, or localities. In essence, it's about "warming up" potential customers to your services and getting them on the path to eventually buying or selling property with you.
In an industry as competitive as real estate, having a consistent and effective lead-generation plan is vital. It's not just about reaching more people; it's about reaching the right people and nurturing them in their journey toward becoming clients.
Whether you're using cutting-edge real estate lead generation software designed by the top companies or implementing tried and tested real estate lead generation ideas, generating high-quality leads should be at the top of your agenda.
Best Real Estate Lead Generation Companies
Navigating the world of lead generation can be overwhelming, especially with so many high-profile companies offering varying, comparable solutions. We've compiled a list of the top ten real estate lead generation companies, breaking down their pros and cons so you can make the decision that's right for your business.
1. REsimpli
REsimpli is software that's a name for itself by offering a robust, all-in-one lead generation solution for realtors. Besides supplying realtors with high-quality leads, their platform provides an array of valuable CRM and marketing tools, making it a comprehensive solution for real estate businesses.
Pros:
All-in-one platform

High-quality leads

Drip campaign tools

Integrated CRM and marketing tools
Cons:
May be overwhelming for beginners
2. Zurple
Zurple offers an automated marketing solution aimed at converting leads into clients. They provide realtors with a personalized website, lead-nurturing emails, and behavioral insights to better understand and serve leads. They also stand out for their system in which you can pay for more exclusive leads in your area.
Pros:
Highly automated

Personalized website
Cons:
No clear pricing model

Not a comprehensive service
3. Zillow Premier Agent
Zillow Premier Agent offers exposure to the largest online real estate audience, allowing realtors access to Zillow's impressive database of properties and buyers. They provide a comprehensive suite of tools for agents, smaller teams, and larger brokers, including CRM and a robust advertising platform.
Pros:
Access to a vast audience – potentially national reach

Strong buyer insights

Instant connections with potential clients
Cons:
High competition among agents
4. REDX
REDX provides a unique approach by targeting expired listings, for-sale-by-owner properties, and pre-foreclosure leads, meaning that any leads generated on their platform are ready to sell. They also offer a range of tools for lead management and follow-up, such as dialing and CRM.
Pros:
Unique lead sourcing

Dialing service
Cons:
Requires aggressive follow-up strategy

Pay-for-lead system that can rack up a hefty bill
5. BoldLeads
BoldLeads offers a complete lead generation system, including an automated marketing platform, landing page templates, and integration into CRM systems. They handle all aspects of lead generation, allowing realtors to focus more on closing deals.
Pros:
Comprehensive lead generation system

Proven templates for advertising and websites
Cons:
Requires integration with other software for full efficacy

Localized service with limited availability
6. Offrs
Offrs leverages artificial intelligence to predict future listings, allowing you to be the first agent a lead comes into contact with. The system also recommends the best way to advertise to these potential leads.
Pros:
Predictive analytics

30 monthly leads guaranteed

Flexible budgeting plan
Cons:
Relatively new approach, not time-tested

Lacks comprehensive services
7. Zoho CRM
Zoho CRM is a customer relationship management software that can be used across a wide range of businesses. The platform is focused on client analytics, so you realtors can decide the best methods of communication across various channels.
Pros:
User-friendly interface

Extensive features for managing and following up on leads
Cons:
Requires technical skills to fully utilize

Not a real estate-specific platform
8. REDi
REDi is a property management software with a focus on administrative management and conversion. Features like their live sales map of homes and 3D architectural visualizations offer valuable insights into properties that other systems lack.
Pros:
Unique features (3D visualizations)

Simple to use
Cons:
Limited customization options

Lack of scaling up potential
9. LionDesk
LionDesk is a CRM platform for realtors, with an emphasis on transaction management. Its system is designed to create more consistent, predictable closes across your career.
Pros:
Integrated power dialer

Automated communications
Cons:
Lead generation lacks scope (Facebook Ad-specific)

Not much difference between plans
10. Placester
Placester provides realtors with a personalized website to showcase their listings and attract leads. Their platform integrates with IDX systems and marketing tools, while also being friendly to growing teams of realtors.
Pros:
Personalized website for realtors

SEO-optimization
Cons:
Requires technical skills for full customization

Limited lead generation scope
How Do Real Estate Agents Generate Leads
There are various different methods that real estate agents can use to generate leads. While there's no one-size-fits-all approach, we've broken down several proven strategies that you can use to boost your generation efforts.
Leverage Social Media:
Facebook, Instagram, LinkedIn, and other social platforms have all grown to become essential tools for realtors. They offer immense potential for advertising, reaching new audiences, and interacting with potential clients, while also being a solid place to research potential leads. Running targeted ad campaigns, along with maintaining an active, engaging presence on social media platforms can be a huge tool in increasing your reach.
Invest in SEO
Optimizing your website for search engines can significantly boost your online visibility, becoming a key facet in every business's approach in the last few years. Through SEO, you can attract organic traffic from individuals actively searching for real estate services, increasing your potential for finding interested parties. Investing in or writing your own blogs and online content that provides valuable, relevant content can also improve your SEO rankings and establish you as an expert authority within the industry.
Host Open Houses
Despite the increasing importance of digital strategies, traditional methods like open houses are still an effective way to get your name and face out there. They provide an excellent opportunity to meet potential clients firsthand, make a strong impression, and then collect their contact information for future follow-ups. You can even host open houses for other realtors if you make the right friends in the industry.
Network at Local Events
Networking at community events, industry conferences, and local gatherings can help you meet potential clients and other professionals who may refer leads to you. Whether you're offering to speak at a real estate meet-up or getting involved in local charity events, having an active presence in the community is a surefire way to develop a strong reputation in your area. Just remember to always have your business cards ready!
Use Lead Generation Companies & Software
Partnering with real estate lead generation companies and software solutions, like the ones mentioned above, is a proven way to supplement your in-house efforts. Not only do they have the expertise and resources to deliver high-quality leads, but they can also save you a massive amount of time and effort when it comes to admin. By using these tools to manage your database, track interactions, and automate follow-ups, you can focus on closing existing deals.
Develop a Referral Program
Happy clients are often willing to refer their friends and family to you, while other industry professionals might point leads in your direction if they feel you're more suited to their needs. Building strong relationships with other realtors is always a smart move, as a partnership goes a long way in this competitive industry. You can also incentivize referrals among former clients by offering them rewards for each new lead referred to you.
Collaborate with Local Businesses
Form partnerships with local businesses, such as moving companies or home renovation businesses. They often interact with individuals who might soon need a real estate agent's services, and word of mouth from people on the ground goes a very long way.
Use Direct Mail Campaigns
While it may seem outdated, direct mail can still be highly effective, particularly in local markets. Personalized postcards or newsletters with strong, engaging writing and graphic design can help you stand out amongst the takeout menus and TV guides!
Remember, successful lead generation involves a mix of strategies tailored to your target audience. It's important to experiment with different methods, track your results, and adjust your strategy based on what works best for your business.
How Much Do Realtors Spend on Lead Generation
Determining how much realtors spend on lead generation can be hard to pin down due to the variety of strategies and tools available. Budgets can vary significantly based on the scope of a realtor's operations, the geographic market, and the specific strategies they employ.
We've broken down the costs associated with some of the methods we've described today.
Real Estate Lead Generation Software/Companies
Working with a company or software solution that specializes in lead generation can be a fairly sizeable investment, but it often pays off in the quality and quantity of leads provided. Pricing for these services can range from around $50 to over $1,000 per month, depending on the company and level of service. For instance, REsimpli starts at $99 per month for the basic plan, with the high-end plan costing $749 per month.
It's important to consider which features you can or can't live without before choosing the plan for your business.
Online Advertising and Marketing
This category includes costs related to website development, SEO, social media advertising, email marketing, and more. Facebook and Google ads, for example, could cost anywhere from $5 to $20 per lead, depending on the competitiveness of your local market and the precision of your targeting. Monthly costs for these advertising campaigns can run anywhere from a few hundred dollars to several thousand.
Choosing an all-in-one CRM and lead generation software can be a good way to consolidate these sorts of costs.
Traditional Marketing Methods
Print advertising, direct mail campaigns, and billboards are all traditional marketing methods that can still be effective for lead generation. The costs associated with these methods can vary widely, depending on location, the size of your adverts, the popularity of publications you're shown in, and more. Direct mail campaigns can cost between 50 cents to $3 per piece while billboard advertising has the potential to cost you thousands every month.
Networking Events and Open Houses
Attending industry events, local community activities, and hosting open houses can also involve expenses. These may include entry fees, promotional materials, refreshments, and more.
Overall, many realtors allocate between 10% and 20% of their gross commission income to marketing and lead generation efforts. Given the median annual wage for realtors in the U.S. was approximately $50,000 as of 2021, this could translate to an average spend of $5,000 to $10,000 per year on lead generation.
However, it's important to remember that these figures can vary widely based on individual circumstances and strategies. It's not about spending more, it's about spending smarter, so you can find a balance that maximizes your return on investment.
Conclusion or Final Thoughts
Lead generation is the lifeblood of any successful real estate business. Understanding its importance, knowing exactly what it entails, and figuring out the best strategies for your own real estate business are all essential aspects of becoming a successful realtor.
It's clear that there are countless different companies, methods, and costs associated with lead generation in real estate, but it's important to select and spend in a way that's tailored specifically to your business. A strong mixture of online advertising, clear lead management, and a physical presence in your community are all likely to be the things that take your business to the next level.
We'd recommend using an all-in-one CRM and lead generation system to keep your operations in one place, reduce your spending, and synergize your business as a whole. For more information on valuable real estate solutions, check out our website today.